READY TO FINALLY MAKE MONEY AS A SOCIAL MEDIA MANAGER?
Has the dream of being a social media manager not matched up to the reality? Are you sick of:
Not making money?
Earning just pocket money?
Not having a sustainable income?
Not having a reliable income?
Working for free?
Working for small clients that can't afford more than five hours pay a week for two platforms?
Not being respected by clients who expect you to drop everything when they need you, or ask for free extras?
If so, it's time to stop selling yourself too cheaply and start making proper money as a social media manager. And that's just what we're going to help you do. Social Media Moneymaker will teach you how to:
Make money so you genuinely have the freedom to choose how much you want to earn around your family
Earn more than just pocket money
Stop working for free
Hook bigger fish
Manage clients so they respect your time and the value you bring
This five-module online course plugs the gaps between your social media management training and running a successful small media management business – so you can finally monetise your skills.
IT'S TIME TO CASH IN ON YOUR SKILLS
You've invested time, money, effort and hope in learning your social media management skills. Now it's time to cash in on them. Here's how Social Media Moneymaker will help you:
Design your life - great lives and businesses don't happen by accident. We teach you how to plan the life and career you want and, more importantly, how to start bringing that plan to life.
Sack your imposter - stop holding yourself back, and start believing you deserve success. Our expert coaching workbooks tackle confidence, failure, barriers and vision so you can finally start carving out the career you hoped for.
Shape your business - want to stop competing on price with thousands of other social media managers? We show you how to spot your unique moneymaking niche and turn it into a financially viable business.
Make money - learn the secrets of finding clients, and making them fall in love with you. Discover how to price your services to make money, and how to get clients to pay what you're worth.
Sell yourself - start shaping your brand, plan your marketing and learn how to structure a sales conversation or pitch and sell yourself with confidence.
By the time you've completed this course you'll know all the secrets of making proper money as a social media manager - working for clients who love, respect and are happy to pay for what you do.
HOW DOES THE COURSE WORK?
Social Media Moneymaker is online and is self-paced, so you can work through it in your own time. As soon as you join you have access to all the content. You'll learn through a mix of video classes, exercises and high quality workbooks.
You have lifetime access to the content, so you can work through it at your own pace - and refer back to it whenever you need. At the end of each module there's a short quiz so you can check you're ready to progress onto the next one.
You also have access to your teachers, Cat and Hannah, in the course discussion section. Cat and Hannah are happy to help out if you get stuck, share their own experiences and advice, and answer any questions.
WHAT ARE PEOPLE SAYING ABOUT THE COURSE?
I'm effectively charging 4x as much
"I found yesterday's webinar very inspiring. So much so that this morning I took all the prices out of my rate card and then walked into a new pitch with a client this afternoon and came out with an initial strategy for Facebook at twice my original price, and weekly channel management at what I was originally going to charge for one month - so effectively almost 4x as much!"
Melanie Eilers, Socially Sound
I understand what I need to charge to make my business work for me
"Before taking this course I wasn't charging what I was worth. I felt demoralised, flat, with a feeling of overwhelm and as though I had failed. This course has opened up my eyes to new opportunities I hadn't thought of. It has helped me to define and structure my business, set myself clear goals and most importantly helped me to understand what I need to charge in order to make my business work for me. A work in progress but I feel excited with what is ahead of me. If you are stuck on which direction to take your freelance career, feeling lost or overwhelmed I highly recommend you take this course. You won't regret it. Thank you Hannah and Cat."
Sally Gurney
I'm fully booked until Christmas
"Since taking this course I have made back the cost of my previous course and more. I've secured enough work to be fully booked until Christmas and am already turning down opportunities. I've only been working as a social media manager since July and don't think I'd be so busy had I not taken this course and followed Hannah and Cat's advice."
Laura Moore, More Than a Mutha
It's really working for me
I am really loving the course and it's helping me to focus on what I need to do and where my niche is. The mix of workbooks and videos is really working for me.
Julie Plumb
I've found the course very helpful
I've found the course very helpful in terms of planning and thinking about what I want to achieve. I still have a lot to do but so far so good!
Tamara, Incredibly Social
I'm loving the course!
I am loving the Social Media Moneymaker course! The first module gave me some really useful insights into how I want my life to be – something that I hadn't spent any time thinking about.
I was focussed on the must get clients and earn money and not on the why I had chosen to start as a freelancer and how I wanted it to pan out. This is what I refer back to when I'm having a tough day and it really does bring things into perspective.
I look forward to the live Q&A's. I always find the videos with Cat and Hannah so engaging and informative.
Sarah Mason
WHO ARE YOUR TEACHERS?
Hannah Martin is an award-winning copywriter with over 21 years' experience working for some of the world's biggest ad agencies and brands. She also built a financially successful career as a freelance writer, earning enough at one point to support herself and her son (and pay an au pair) as a single mum – working just part time.
In 2013, Hannah launched Talented Ladies Club, building the online magazine up to a monthly readership of 82,000 unique visitors a month, and growing a social network of over 65,000. She also launched a range of popular online training courses in the Talented Ladies Academy.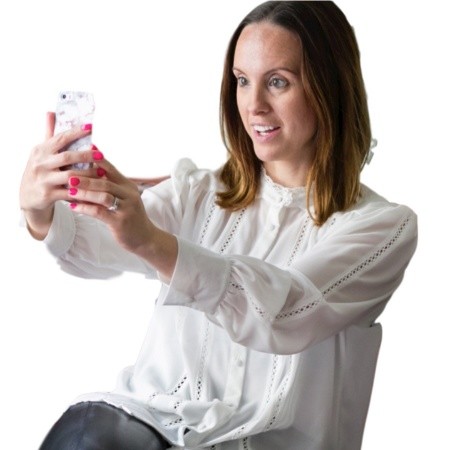 Cat Davies is a superstar social media manager. A former management consultant working for Grant Thornton and Serco (where she specialised in digital transformation, working on £30m websites and moving major payment systems online), Cat became a freelance social media manager in 2016.
Since then she's trained MTV to use Snapchat, run LinkedIn adverts for IBM and run a Facebook page that performed 40,000% above industry average. Cat also has a side line filming and editing video for social media, has been asked to speak at events like as Social Day and Small Business vs Facebook, and has even interviewed Mel C from the Spice Girls for a client.
Together Hannah and Cat have combined their experience and knowledge to create the ultimate course for social media managers who want to properly monetise their skills, and finally earn the income they deserve.
READY TO START MAKING MONEY?
Every day you wait to start this course is a day you're losing money. So stop missing opportunities - and start making money!
Join Social Media Moneymaker now and discover the secrets of building a successful, flexible freelance social media management career... and start putting them into practice right away.
Hannah Martin
Founder of Talented Ladies Club
About the instructor
Hannah Martin is a small business and careers expert. She regularly appears in the national media and on TV and radio, and has taught workshops for Country Living Magazine and Mumsnet.
A passionate advocate of women in business, Hannah is a member of the All Party Parliamentary Group (APPG) Women in Business, and a mentor for Natwest Bank's Entrepreneurial Spark programme.
Hannah is also an award-winning copywriter and digital strategy consultant, with over 20 years' experience in the advertising industry, and a qualified psychotherapist, hypnotherapist and NLP Practitioner.