READY TO BUILD A BUSINESS YOU LOVE?
Starting a new business is exciting, but it can also be overwhelming. What do you do first? And what do you focus on in the little time you have?
In the last three years we've helped dozens of women start and grow businesses they love through our membership club Kickstart. And now we've turned Kickstart into a year-long online course that makes it REALLY easy to build your business. Every month you properly master one area of your business, before moving on to the next.
So you can build your business with confidence and clarity every month.
FOLLOW OUR ROADMAP TO BUSINESS SUCCESS
Kickstart has been carefully constructed to build your knowledge and confidence over time. Here's how we guide you over the year. (You can see the full curriculum at the bottom of the page).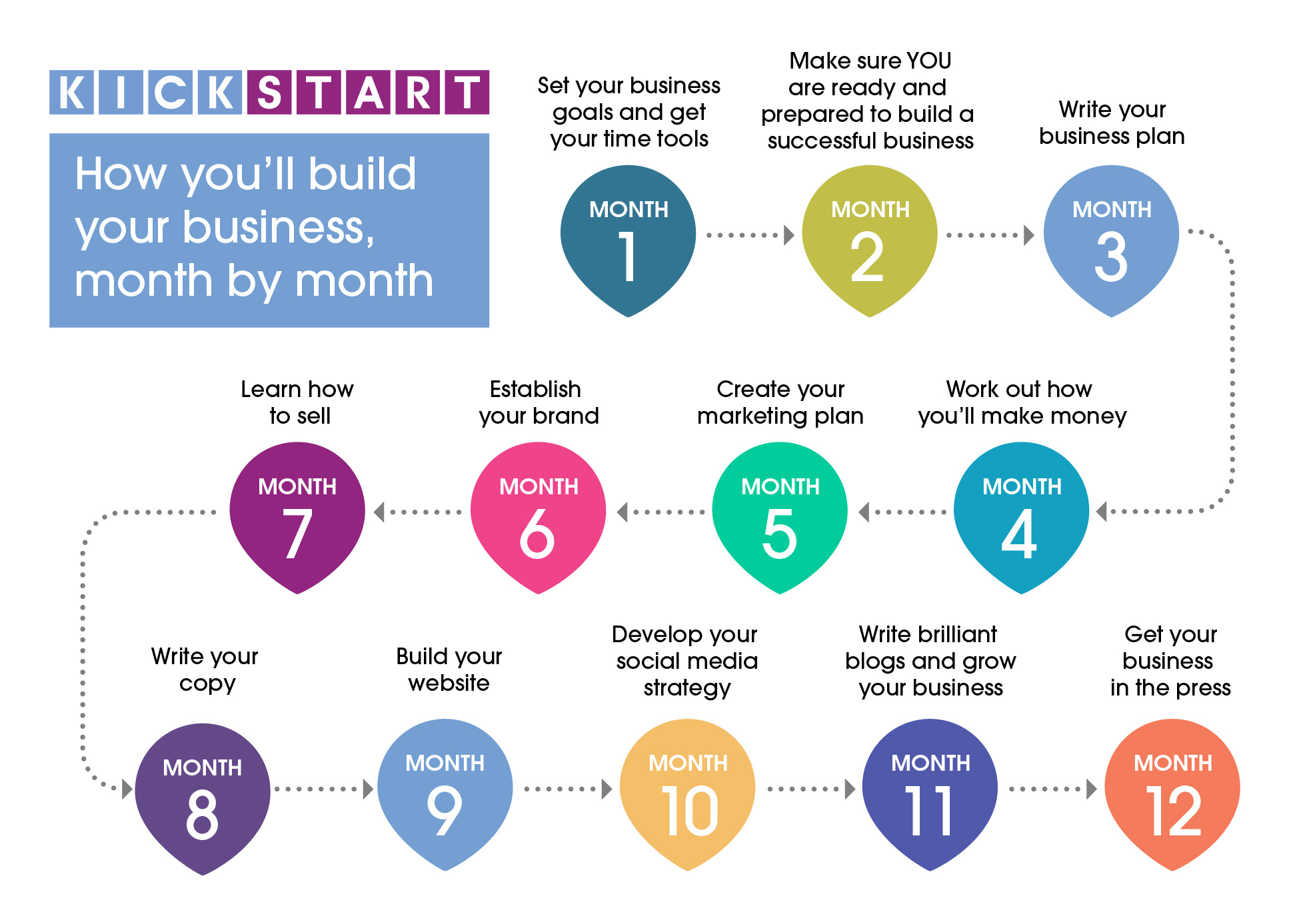 GET MONTHLY SUPPORT TO HELP YOU KEEP GOING
To help you keep on course, and master each month's subjects, we have a number of support pillars in place on Kickstart:
Fortnightly live webinar - every month Hannah Martin hosts a live online class. It's a fun and informative class in which she answers questions (you can submit questions beforehand if you wish) and shares advice to help you continue to build your business with confidence.
Private Facebook community - you also have access to a private Facebook group just for Kickstart members. We encourage you to share your work each month for feedback from other members and us, and support each other on your journey.
Private discussion forum - our learning platform has a discussion forum just for members. So if you get stuck or just have a question about your coursework, just open a discussion and we'll help.
Think of us as your business sidekick. A mix of business coach, cheerleader, friend and encyclopaedia of advice. With us on your side your business (and confidence) will grow from strength to strength.
WHY KICKSTART WORKS - OUR 'LITTLE AND OFTEN' APPROACH
Have you ever got really excited about a new project? Embraced it with energy and enthusiasm in the beginning and threw everything you have at it... only to find your interest waning after a while?
We've seen too many businesses fail because the business owner tried to bite off too much in the start. Or didn't follow a consistent strategy. So Kickstart is built on the little and often principle. This means that, rather than overwhelm you with lots of things to learn and do straight away, we guide you as you gradually and sustainably build your business.
Each month you build on your knowledge using our carefully planned lessons and resources, bringing all the pieces together as you grow a successful business, piece by little piece, with confidence and clarity.
WHAT DO OTHER MEMBERS SAY ABOUT KICKSTART?
"I'm delighted with my membership and often recommend it to clients and friends"
"Kickstart is a fantastic business resource. It's a really common sense, friendly approach to building your business. The workbooks and videos are packed with practical exercises and wisdom. But best of all is the genuine support you get from TLC and the other members in the private Facebook group. I'm delighted with my membership and often recommend it to clients and friends." Paula Hutchings
"A comprehensive toolkit that has helped me with my business goals"
"Kickstart offers a comprehensive toolkit that has helped me with my business goals. The workshops and courses offer a bitesize, clear approach to the key areas of your business and how to plan or grow these. Individual sections are easy to follow but not over-simplified - as well as advice and learning they offer examples and exercises." Rhiannon Abbott
"Kickstart gives you a structure to focus on one thing and get it right"
"When you start a business you need to invest in something that's going to help you create a structure. I really floundered at the beginning; I didn't know what to do when. Kickstart gives you a structure to focus on one thing, do it really well and get it right. It really helps you not be overwhelmed, because that happens too easily in the early days." Jennie Adams
IS KICKSTART RIGHT FOR YOU, RIGHT NOW?
Kickstart is perfect for you if:
You have an idea for a business you'd love to start but lack the confidence to get going, or you feel overwhelmed and confused by what's involved.
You've taken the first tentative steps in your business but you're not making the progress you hoped for - you feel lost and you worry you're falling out of love with it.
You want to escape corporate life and work for yourself, but need to build your business before you can leave.
You've taken time out of your career and want to run your own business from home.
Kickstart will give you the confidence to start or take control of your business, by guiding you through a programme that shows you exactly what to do every month - and holding your hand throughout the process.
TIME TO ESCAPE YOUR JOB AND BUILD THE LIFESTYLE YOU WANT!
For many members, Kickstart is more than just a way to start a business - it's lifeline out of a job that no longer fulfils them or meets their needs. We've constructed the course so you can complete it while working, and grow your business alongside your job. Then when you're ready, you can quit your job and enjoy the freedom of working on your terms.
So, if you'd love to escape your job and build a business you love, this is your chance! Just imagine - where could you be this time next year...?
WHAT'S THE COMMITMENT?
Kickstart is a 12 month programme. We estimate that you would need to put aside an average of six hours a month to work through the coursework. You're not committed to stay on the course for the full 12 months if you don't wish - you can cancel your membership at any point. (If you paid upfront for the year, just get in touch and we will refund your remaining full months.)
We have two payment plans:
It's important to us that you enjoy the course and benefit from the resources we have created. If for any reason you're not happy, simply send us an email to explain why so we can make any improvements needed, and send us your completed work for that module (so we can check you've given it a go) and we'll happily refund that month for you.
That said, we're confident you'll love the course, and really look forward to sharing our resources with you.
"I feel like starting a business is finally do-able and actually within my capabilities"
"I am thrilled to be a part of the Kickstart programme. After years of trying to shape various business ideas with little or no success, I feel like it's finally do-able and actually within my capabilities!" Mia-Louise Connor
WHY INVEST IN YOUR BUSINESS?
Why invest in a course like Kickstart? Since we launched Talented Ladies Club we've invested thousands in training and coaching - and continue to do so today. Why? Because it's an investment. Every penny we've spent on learning has been more than repaid.
Yes you can struggle on alone, looking for cheaper or free resources, but you'll make more mistakes, some of them expensive, you'll progress MUCH more slowly (we wasted so much time and money in the beginning trying to do everything ourselves), and you risk being overtaken by smarter competitors.
When you invest in Kickstart you get access to our expertise. We show you what to do when and how to make consistent progress. You'll also save money in the long term - rather than needing to pay for copywriters, PR consultants and social media strategists etc while you're starting up, we teach you how to be your own in-house expert.
In fact, some of the knowledge we share with you in this course we ourselves have paid hundreds of pounds to master, and tested over time to ensure it really works.
So, if you're serious about making your business work, we urge you to invest more than just time and hope in it, and give yourself a much better chance of succeeding.
WE CAN'T WAIT TO HELP YOU BUILD YOUR BUSINESS EVERY MONTH!
Hannah Martin
Founder of Talented Ladies Club
About the instructor
Hannah Martin is the founder of Talented Ladies Club and a small business expert. She regularly appears in the national media and on TV and radio, and leads workshops for Country Living Magazine, Mumsnet, Mums Enterprise and more.
Hannah is also an award-winning copywriter and digital strategy consultant, with over 20 years' experience in the advertising industry, and a qualified psychotherapist, hypnotherapist and NLP Practitioner.