READY TO BUILD A PROFITABLE BUSINESS?
Starting a new business is exciting, but it can also be overwhelming. What do you do first? And what do you focus on in the little time you have? And how do you ensure it makes MONEY?
Kickstart is a year-long online course that guides you, month by month, as you systematically build a profitable business from the ground up. The course is designed for first-time entrepreneurs, and business owners who are struggling with an early-stage business that's not working as they'd hoped.
Kickstart stops overwhelm and makes building your business easy and fun - and grows your confidence along the way.
FOLLOW OUR ROADMAP TO BUSINESS SUCCESS
Kickstart has been carefully constructed to build your knowledge, confidence and progress over time. Here's how we guide you through the year. (You can see the full curriculum at the bottom of the page).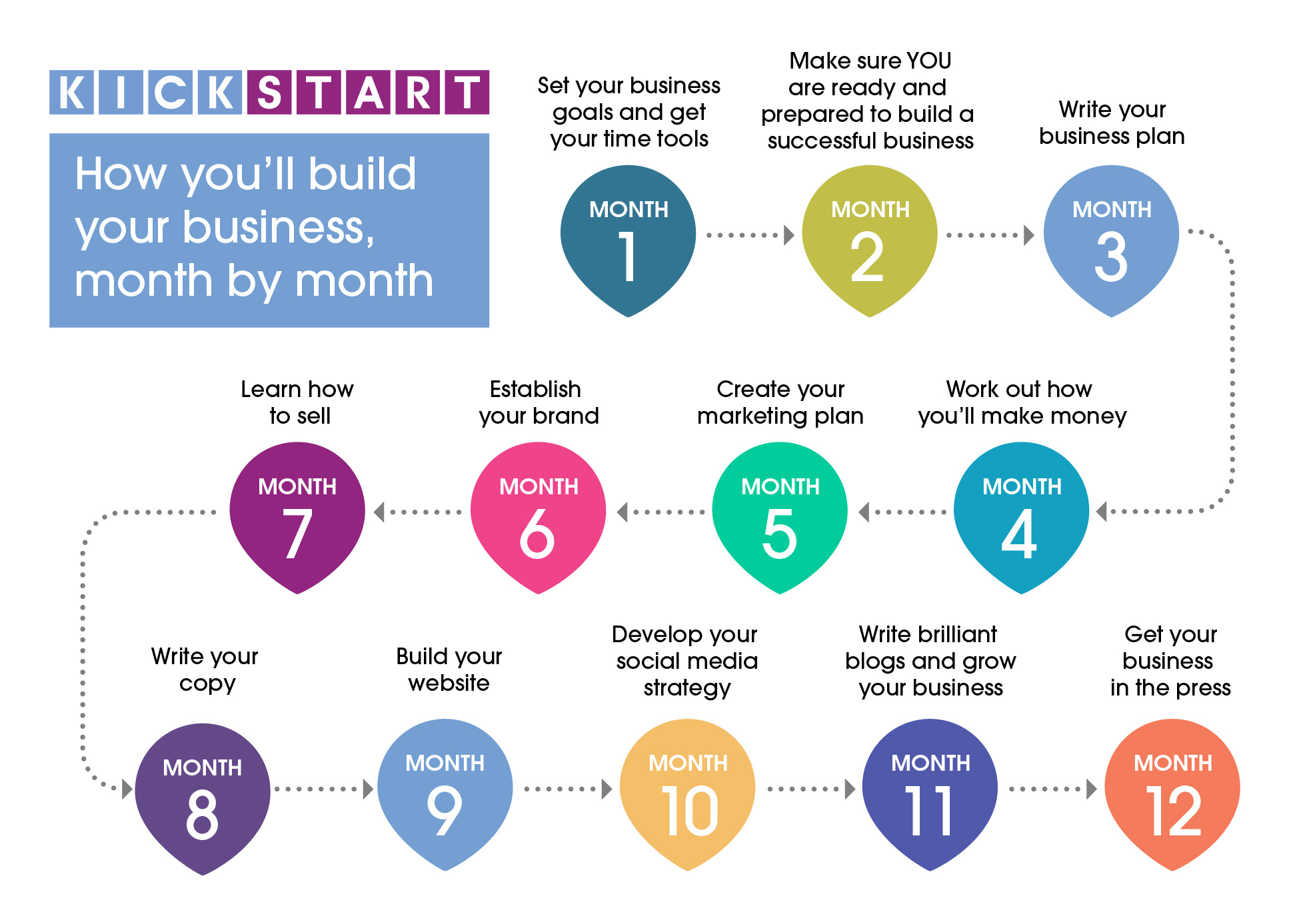 GET MONTHLY SUPPORT TO HELP YOU KEEP GOING
To help you keep on course, and master each month's subjects, we have a number of support pillars in place on Kickstart:
Monthly live webinar - every month Hannah Martin hosts a live online class. It's a fun and informative class in which she answers questions (you can submit questions beforehand if you wish) and shares advice to help you continue to build your business with confidence.
Private Facebook community - you also have access to an incredibly friendly and supportive private Facebook group just for Kickstart members. Members share their journey and work, and cheerlead each others' businesses.
Private discussion forum - our learning platform has a discussion forum just for members. So if you get stuck or just have a question about your coursework, just open a discussion and we'll help.
Think of us as your business sidekick. A mix of business coach, cheerleader, friend and encyclopaedia of advice. With us on your side your business (and confidence) will grow from strength to strength.
WHY KICKSTART WORKS - OUR 'LITTLE AND OFTEN' APPROACH
Have you ever got really excited about a new project? Embraced it with energy and enthusiasm in the beginning and threw everything you have at it... only to find your interest waning after a while?
We've seen too many businesses fail because the business owner tried to bite off too much in the start. Or didn't follow a consistent strategy. So Kickstart is built on the little and often principle. This means that, rather than overwhelm you with lots of things to learn and do straight away, we guide you each month as you gradually and sustainably build a profitable business.
DISCOVER THE SECRETS OF A PROFITABLE BUSINESS
Starting a business is easy. Building a PROFITABLE business is much harder. We see so many businesses struggling because they're making the same basic mistakes. That's why we've made sure that Kickstart teaches you how to make money. Here are just some of the ways we help you grow your profits:
We help you uncover any limiting beliefs and replace them with a healthy money mindset.
We teach you how to build a product pyramid and escape the time for money trap.
We show you how to price your products correctly (and stop under charging!) and give you the confidence to ask for (and get) sales.
We guide you through the sales process - from how to find your first customer, to how to use sales language with confidence.
We also explain how to use your website, social media, design, copy and PR to promote what you do (and encourage sales).
Here's just one example of how Kickstart members are increasing the profitability of their businesses:
Every single module in Kickstart has been designed to not just help you build a business you love, but to make sure your time, effort and investment is rewarded with PROFIT, just like this example.
WHAT ELSE DO MEMBERS SAY ABOUT KICKSTART?
"I am so pleased I chose Kickstart!"
"I wasn't sure what to commit to to get me up and running, but I am so pleased I chose Kickstart! It's a really well set out, step-by-step course to really help you focus on setting up and establishing your business. Hannah is very supportive and generous with her time - and it is also great having helpful advice and much needed high-fives (!) from the rest of the Kickstarters." Bonamy Gauvain Waddell
"Worth every penny"
"Kickstart has been a really useful resource for me. The modules themselves have created great structure, and the discipline to go back to important basics around goals, plans and how the business fits in with my overall life values, which has been so helpful. Having the support from other members of the Kickstart 'gang' has been great too.
Hannah's 'lives' in the group, and other one-to-one interactions and support have always been spot-on and backed up with such credibility, experience and humour! Worth every penny and by far one of my best business decisions." Jo Clifton
"Kickstart is brilliant!"
"Kickstart is brilliant! I don't want it to end and I'm only a couple of months in. Hannah has already given me the confidence boost I need to start to break through any blockers that are holding me back from starting my business. And the secret Facebook group is just as open and supportive plus it's fun to be part of.
If you are having any doubts whether to join Kickstart you've no need. Do it! The course has not only helped me to start building a business but, just as importantly for me, it is also helping me to grow as a person. Thank you Hannah and to the lovely ladies of the Kickstart group!" Sally Gurney
"Amazing value for money"
"Kickstart has been great for me. I absolutely love the way it is structured. Just the right balance of really practical help, mixed with brilliant tools to help with mindset, confidence and visualisation. From the off I have been really impressed. I have never really thought about my business in the way Kickstart gets you to do before.
It's all broken down into really digestible, bite-sized pieces of work, making it enjoyable and easy to complete. I love the way I've formed a network of support with the other participants. Hannah is fantastic and always on hand to answer any type of issue we are going through, whether it's nuts and bolts business advice or more personal stuff like confidence or imposter syndrome issues. It's also amazing value for money and in my opinion a no brainer investment for any start up business. Highly recommended" Sally Bunkham
"The person I want by my side"
"Hannah is the person I want by my side as I set up my business. She challenges me to think, spurs me into action, giving me the tools and strategies as I go. Her monthly Kickstart modules encourage me to dig deep, stay on track and transform my ideas into a sustainable business using manageable steps. I am very grateful for Hannah's support and the Kickstart community." Joanne Brown
"A great guide as I start my business"
"Kickstart is such a great guide as I start my business. I'm loving the structure of the course, taking me through a step by step process to help me focus on each stage of my journey. It is well thought out, considered and in depth. Plus the personal support from Hannah and the Kickstart group is invaluable!" Jo Oliver
"A comprehensive toolkit that has helped me with my business goals"
"Kickstart offers a comprehensive toolkit that has helped me with my business goals. The workshops and courses offer a bitesize, clear approach to the key areas of your business and how to plan or grow these. Individual sections are easy to follow but not over-simplified - as well as advice and learning they offer examples and exercises." Rhiannon Abbott
"I wouldn't have got to this stage without it"
"Kickstart is invaluable. It provides the friendly support, accountability and know how that I need to build and move my business forward. I wouldn't have got to this stage in my business journey without it." Jennie Adams
IS KICKSTART RIGHT FOR YOU?
Kickstart is perfect for you if:
You have an idea for a business you'd love to start but lack the confidence to get going, or you feel overwhelmed and confused by what's involved.
You've taken the first tentative steps in your business but you're not making the progress (or money!) you hoped for, and aren't sure what to do next.
You want to escape corporate life and work for yourself, but need to build your business before you can leave.
You've taken time out of your career and want to run your own business from home.
Kickstart will give you the confidence to start or take control of your business, by guiding you through a programme that shows you exactly what to do every month - and holding your hand throughout the process.
TIME TO ESCAPE YOUR JOB AND BUILD THE LIFESTYLE YOU WANT!
For many members, Kickstart is more than just a way to start a business - it's lifeline out of a job that no longer fulfils them or meets their needs. We've constructed the course so you can complete it while working, and grow a profitable business alongside your job. Then when you're ready, you can quit your job and enjoy the freedom of working on your terms.
So, if you'd love to escape your job and work for yourself, this is your chance! Just imagine - where could you be this time next year...?
WHAT'S THE COMMITMENT?
Kickstart is a 12 month programme. We estimate that you would need to put aside an average of six hours a month to work through the coursework. You're not committed to stay on the course for the full 12 months if you don't wish - you can cancel your membership at any point. (If you paid upfront for the year, just get in touch and we will refund your remaining full months.)
We have two payment plans:
It's important to us that you enjoy the course and benefit from the resources we have created. If for any reason you're not happy, simply send us an email to explain why so we can make any improvements needed, and send us your completed work for that module (so we can check you've given it a go) and we'll happily refund that month for you.
That said, we're confident you'll love the course, and really look forward to sharing our resources with you.
"I feel like starting a business is finally do-able and actually within my capabilities"
"I am thrilled to be a part of the Kickstart programme. After years of trying to shape various business ideas with little or no success, I feel like it's finally do-able and actually within my capabilities!" Mia-Louise Connor
WHY INVEST IN YOUR BUSINESS?
Why invest in a course like Kickstart? Since we launched Talented Ladies Club we've spent thousands in training and coaching - and continue to do so today. Why? Because it's an investment. Every penny we've spent on learning has been more than repaid.
Yes you can struggle on alone, looking for cheaper or free resources, but you'll make more mistakes, some of them expensive, you'll progress MUCH more slowly (we wasted so much time and money in the beginning trying to do everything ourselves), and you risk being overtaken by smarter competitors.
When you invest in Kickstart you get access to our expertise. We show you what to do when and how to make consistent progress. You'll also save money in the long term - rather than needing to pay for copywriters, PR consultants and social media strategists etc while you're starting up, we teach you how to be your own in-house expert.
In fact, some of the knowledge we share with you in this course we ourselves have paid hundreds of pounds to master, and tested over time to ensure it really works.
So, if you're serious about making your business work, and making proper money, we urge you to invest more than just time and hope in it, and give yourself a much better chance of succeeding.
WE LOOK FORWARD TO HELPING YOU BUILD A PROFITABLE BUSINESS!
Hannah Martin
Founder of Talented Ladies Club
About the instructor
Hannah Martin is a small business and careers expert. She regularly appears in the national media and on TV and radio, and has taught workshops for Country Living Magazine and Mumsnet.
A passionate advocate of women in business, Hannah is a member of the All Party Parliamentary Group (APPG) Women in Business, and a mentor for Natwest Bank's Entrepreneurial Spark programme.
Hannah is also an award-winning copywriter and digital strategy consultant, with over 20 years' experience in the advertising industry, and a qualified psychotherapist, hypnotherapist and NLP Practitioner.